Sparks fly on DS4's new album 'Apropos Blues.' 'Hip-Hopping' is a fun, energetic collaboration with Glaswegian rapper Johnny Cypher, a cheeky ode to hip hop set to a blues progression. The album's closer, a cover of the classic 'Bye Bye Johnny', sounds solid as a thundering train. The more melancholic 'When Her Ship Comes Sailing In' culminates in an intense musical climax. Laurie Garmon is superb on harmonica. 
David Sinclair's lyrics are witty and evocative. It's easy to visualise the characters of 'Apropos Blues'. "A woman coming out of a shop with no shoes." "A girl in ripped jeans with studs and tattoos." Many of the songs reflect on life during the pandemic. DS4 has made a historical record of this period in a rock 'n' roll jacket.
Geoff Peel is excellent on lead guitar. It almost sounds like his guitar is speaking on 'Years Are Gone'. On that particular song, the guitars create a sad, moving atmosphere, reminiscent of the Dire Straits' 'Brothers in Arms'. Throughout the album, brothers Jos and Rory Mendoza play a solid foundation on bass and drums.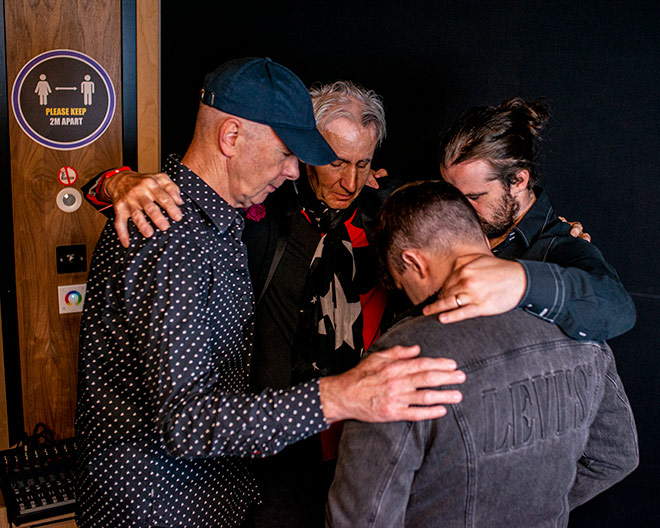 The album sounds both beefy and clear, courtesy of Jack Sinclair, who mixed and produced the record. I love how he's placed instruments to the far left and right of the stereo spectrum. His treatment of the main vocal and the placement of the backing vocals is also spot on.
With the lockdowns lifted, we can go and see 'The Bands of London' out in the wild again. Check out DS4. David's ready, wearing his blue suede shoes.
Hear more
Support DS4 by buying their music on Bandcamp. Or have a good listen first on Spotify.
Find out more about the band on their website, or follow them on Twitter, Facebook, Instagram or YouTube.