Honest and personal, T.E. Yates shares his experience as a neurodivergent artist on his new EP 'Strange Weather'. The release has lush band arrangements with beautiful backing vocals throughout, and vibrant cover art by the artist's own hand.
A Northerner now living in Bristol, Yates works in his attic studio, occasionally venturing out into the local cemetery to rehearse songs together with his friend and fiddle player, Joe. When he's not creating his own art, he produces animations and illustrations on commission.
Tracks and animated videos from Yates' earlier EP 'Possessed' and album 'Silver Coins and White Feathers' were picked up by the BBC and film festivals around the world. His 'Evil Cat' is a favourite of mine, both because of the ominous musical composition and the dark animated video, based on a short story by Edgar Allen Poe. Also notable are the 'demolition mice' Yates brings with him whenever he plays gigs – irresistible pencil drawings of power tool-wielding mice that cleverly function as his business cards.
Before even listening to Yates' new EP 'Strange Weather,' I'm struck by its cover art. Using vibrant colours, the artist portrays himself in four seasons, inspired by Alphonse Mucha's Art Nouveau-style Seasons.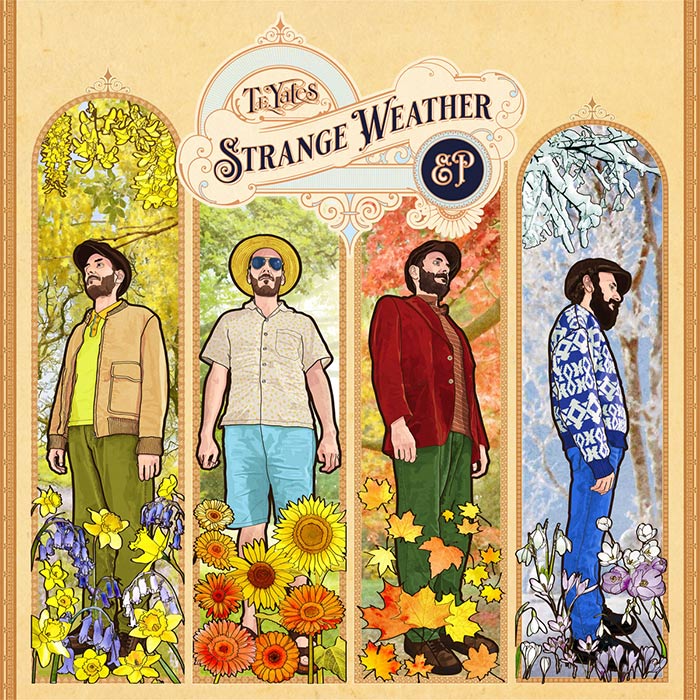 But his creative gifts come with a trade-off, we learn on the EP's opening track 'Condition', where Yates shares his experience of being neurodivergent. Whilst exceptionally skilled in some areas, social interactions are hard for him, he sings. He rejects any stigma that listeners might attach to people whose brains work differently: "It's a condition not a sickness." With a feel good vibe, this is a very strong, original track with an important, positive message.
Feeling excluded is the theme of 'Fierce Horses', the ominous second track. The energetic drums and bass work together with smoky trumpet lines and Yates' doubled up vocals to express the tension and disappointment expressed in the lyrics.
'Palace of Your Master' is a calmer track, with folky flavours and a tasteful musical saw that brings a hint of Americana. Yates expresses bitterness at a servant, with some lovely imagery in the lyrics like the "broken antique mirror". Exactly who the characters are remains a mystery, but there might be a connection to the group of privileged people currently running the UK, as "they have no idea that there's more to life than money."
'Fairy Tale' is an acoustic reworking of a track from 'Silver Coins and White Feathers'. It's a spacious version of the song with a spotlight on the walking bass. We encounter vivid imagery from fairytales, only to be told that, like love, none of it is real. It's a great-sounding anthem of disenchantment, but I do hope the story doesn't end here.
Smooth and seriously groovy, 'Jack of All Trades' sounds like it's coming from a slightly different world. A lament for not mastering any craft in particular, I can't help but wonder if the song is an expression of self-doubt or merely a creative exploration of the 'Jack of all trades' concept.
The closing track 'Mystery Window' has a hint of the psychedelic, and reminds me a bit of the experimental period of The Beatles. We hear a break up take place against the backdrop of a strange weather event: snow in July. It sounds like a surrealist experiment.
'Strange Weather' is an insightful window into the mind of a neurodivergent artist. Feelings of disappointment and being excluded are contrasted with good intentions and the artistic talents Yates so obviously possesses. It's a perspective that deserves to be heard.
Hear more
Find out more about T.E. Yates on his website. His music is available on all platforms including Bandcamp and Spotify. His art is on Etsy.