With two distinctive voices and an acoustic guitar, Cede put the catchy melodies and spellbinding lyrics of their brilliant songs centre stage on their first EP, 'Pain Sells,' out on 28 June.
Cede are Scottish artists Becci Wallace and Alan Kerr. Having met while studying songwriting at the University of the West of Scotland seven years ago, they made the time to write together and record their joint songs during lockdown.
Becci is an accomplished independent artist who already has two albums to her name, both characterised by her playful, poetic lyrics and powerful voice. BBC Scotland and Amazing Radio are big supporters of her music. After going electronic on her recent album 'Present Tense,' it's great to hear her return to her acoustic roots on this new EP. Becci's voice sounds versatile, ranging from forceful to subtle, and even angelic on the backing vocals on 'Symphonies.'
Alan's been keeping a lower profile, but clearly has a gift for words. Warm and conversational, his voice sounds disarming in his delivery of the lyrics.
Having listened to the EP a couple of times, Cede leave me hanging in the ambiguity of their lyrics. Is the boat voyage in 'Call of the Void' metaphorical? Probably. Is the woman described in 'Numbers Game' a sex worker? Possibly. Are birds singing or are we on Twitter in 'Pain Sells,' or perhaps both? Leaving room for interpretation whilst evoking vivid imagery, Cede are every bit as poetic as Leonard Cohen or Bob Dylan, but without the male chauvinism.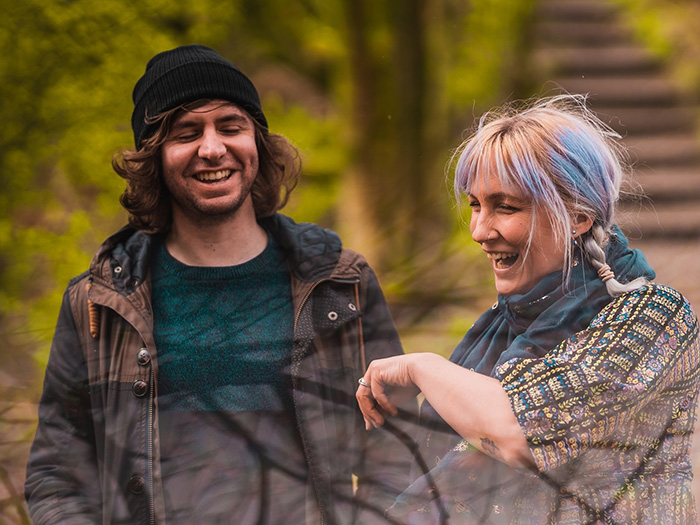 The tracks
The title track 'Pain Sells' sounds cheerful, with major guitar chords and pop hooks that echo in your head long after the song has stopped playing. But the lyrics reflect upon sadness, perhaps as a comment on how singer-songwriters are expected to play sad songs. Alan ends the song on a positive note.
"And you said: 'Thanks for the memories but I've forgotten you a long time ago,'" starts the second song, 'After the Goodbye.' Dealing with falling out of love, the lyrics paint recognisable scenes while also being masterfully original. This is one of my favourites. Prepare for an emotional crater after impact.
'Numbers Game' is a story of unrequited love. Her heart is definitely not in it. It's got great lines, like "Sometimes she's vanilla, something so expected" and "forty years of hoarding."
Hopes get dashed in 'Symphonies.' The time signature change in the bridge transports us into a slow-motion waltz. It's the moment of truth. Becci's main vocal is stunning; her backing vocals are ethereal.
The EP closes with 'Call of the Void,' a song as hushed and tender as Simon and Garfunkel's classic tracks. Alan and Becci's voices blend together as one, and the melody develops beautifully. I'm unsure what kind of void we're sailing into, but I'm with them all the way.
Hear more
Order 'Pain Sells' on Bandcamp or listen on Spotify.

You can also follow them on Twitter and Facebook.