You can imagine a film playing as you're listening to his music. With three EPs under his belt, Bristol-based artist/producer Jonni Slater may have traded in his indie rock feel for more intimate and unusual arrangements, but there's a distinct cinematic quality that runs like a red thread through all his work. In fact, he won first place in the Sensoria Scoring Contest of 2020, for a re-scoring of the trailer to Suspiria, a horror film, together with classical composer Ed Bettella.
In his solo work, Jonni paints dark scenes with his warm, husky vocals, atmospheric guitars and vintage keyboards. But he doesn't leave us there – in the end, hope shines through. "I think the darker side is a way of exploring possibilities and processing ideas," Jonni says. "I am a very hopeful person. In any situation, that keeps me going."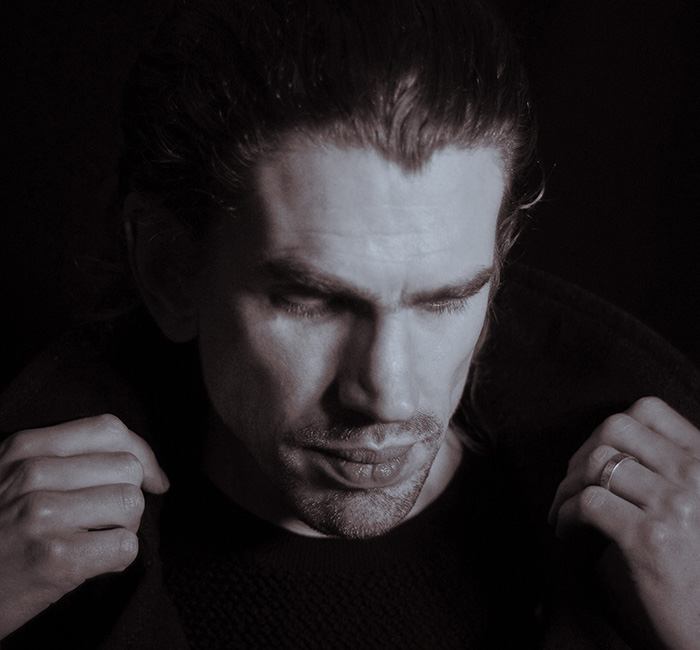 Into the Unknown
Written when the city went quiet and birdsong grew loud during the first lockdown, 'Into the Unknown' was Jonni's way of dealing with the uncertainties of both the pandemic and climate change. He says: "One of the initial things I came up with was the phrase 'Into the unknown' and that conjured up this idea of an almost mythical sea voyage." Drawing on classical imagery like sirens and giants in his lyrics, the song is a metaphor for how unreal the situation felt, like sailing into uncharted territory.
'Into the Unknown' has a strikingly unusual sound and arrangement. Against a sparse backdrop of percussive cross rhythms, Jonni's voice takes centre stage. Layered to create a male choir, it has an organic, primal quality to it. Singing about the sea, he nods to shanty choirs, and there's a definite touch of folk in how close-up and real his vocals sound.
Jonni says he built the track percussion first, using items he found in his kitchen: "I got a nice percussive sound and tone from the wok – that became the main backbone of the track." He also added a salt pot as a shaker, and various cardboard boxes. "Having built that soundscape, I thought, rather than trying to put in normal instruments, I thought I'd keep it quite sparse and make more space for the voice. That was the concept."
Where will this odyssey take us? "The last verse of the song is about this hope that we might end up somewhere better than where we are now," Jonni says. "A hope that we may move forward in a less damaging way for ourselves, other humans, and the planet."
Further to Our Letter of the Fourth
'Further to Our Letter of the Fourth' is the intriguing B-side to 'Into the Unknown'. Whereas Jonni's male choir represents humanity looking for a better future on the A-side, on 'Further to Our Letter', it is the faceless voice of officialdom and bureaucracy.
As the country was in lockdown, a film still of Sidney Poitier reading a letter with his wife looking on concerned, sparked the idea for the song. "I was thinking of people who might be receiving letters from landlords, or letters about their jobs," Jonni says. "The contents of those letters may be potentially life-changing for the people receiving them, but the language is completely devoid of emotion and absolves the sender of responsibility – you have done; you haven't complied." By highlighting the cold tone of those letters, 'Further To Our Letter Of The Fourth' draws attention to their inhumanity. Dressed in the language of officialdom, it is a call for empathy and kindness.
Hear more
Find out more about Jonni's music on his website. His music is available on all platforms including Bandcamp and Spotify.